4ta. Edición The BPM Festival
Playa del Carmen, Mexico
Diciembre 31, 2010 – Enero 9, 2011
www.thebpmfestival.com
El BPM 2011 dio inicio con una gran noche de Año Nuevo en Playa del Carmen.  El muy esperado Festival una vez más se asentó en este paradisiaco destino turístico en México, para la 4ta. Edición de un evento que es ya un nombre recurrente en la agenda de DJs y amantes de la música electrónica en la escena mundial.
Inicialmente pensado como una conferencia, el BPM ha construido año con año un nivel donde ahora la crème de la DJ fraternity se puede encontrar en las tornamesas cualquier noche de la semana, o disfrutando de sus vacaciones en el sol.  Los organizadores del evento han alcanzado su misión exitosamente: 'escape the winter doldrums and head for the Mayan sun for beats and beach fun' / "escapa de la inactividad del invierno hacia el sol Maya, para encontrar beats y diversión en la playa" – sería la traducción al español, y es que en 2011, más de 25,000 asistentes de todo Canadá, Estados Unidos, México, América Latina y Europa, llenaron las 49 fiestas diferentes durante el día y la noche, en las que más de 120 DJs pincharon en distintos ambientes la más fina música dance.
2011 fue darte más bang por lo pagado, ya que los promotores esencialmente duplicaron el número de eventos para el día y la noche.  Por políticas, la música es estrictamente house y techno, lo que permite que una amplia selección de artistas y promotores, disfruten y trabajen dentro de lo organizado por el BPM.  Igual que el año pasado, la mayoría de las fiestas de día tuvieron lugar en el centro del Festival: Kool Beach Club.  Donde el área para bailar es alrededor de una alberca que se extiende hasta la playa, y el poderoso sistema de sonido mantiene a los asistentes en movimiento desde la mañana hasta el atardecer todos los días.  Los highlights de Kool sin duda fueron  el Space Miami head-honcho Louis Puig, el francés adoptado y favorito de Miami; Cedric Gervais, y por supuesto la sorpresa que nos dieron Davide Squillace y Dubfire, ya que su actuación en Brahma la noche anterior llegó al máximo de capacidad y los fans querían más y más!
Hubo también algunas sorpresas grandes en los venues elegidos para celebrar las fiestas de día.  Tanto Mamita's como Canibal Royal Beach Club, son el tipo de bares en la playa en los que podrías estar todo el día.  Las fiestas que nos dieron Culprit y No. 19 Music, con los beats de Lee Foss, Jonny White de Art Department y Droog, así como Akbal Music; disquera mexicana con reconocimiento internacional, puso a estos clubs en el mapa como el day time destination para muchos de los asistentes.  Esto sin mencionar los espectaculares DJ sets que se aventaron Three y Lee Burridge en último momento, cuando Mr. C no pudo llegar.
De la playa los asistentes podían continuar durante la noche en diferentes fiestas, en clubs realmente impresionantes y otros más íntimos y exclusivos. The Blue Parrot Beach Club (donde el piso y la pista de baile es arena) fue anfitrión de los DJ heavyweights, y los eventos celebrados aquí fueron los que definitivamente marcaron la popularidad creciente del Festival.  Tanto la fiesta de Richie Hawtin como la de Loco Dice estuvieron al máximo de capacidad, los fans abarrotaron la entrada de este club frente al mar para disfrutar de sus disqueras favoritas de techno y tech-house respectivamente.  La fiesta de Año Nuevo también tuvo lugar aquí, con el progressive house de Hernan Cattaneo tocando a una multitud que registró "sold out" en las entradas.  Otras noches incluyeron las presentaciones de grandes artistas del house como Laidback Luke y Swedish House Mafia Don Steve Angello.
La Santanera y su boudoir-esque dècor recibieron en casa al Air London duo de Nick Curly y Simon Baker, que tocaron una noche para recordar.  Además de la notable presentación de Lee Burridge con sold-out, y la fiesta de Kompakt Records con Michael Mayer y Superpitcher que nos deleitaron con un back-to-back.
Brahma fue una vez más un club clave en este 2011, desde el innovador Stacey Pullen de Detroit para cerrar el Festival, hasta las mezclas de Paul Ritch y Paco Osuna con sets para bailar hasta destruir la pista.  Y quién puede olvidar la impresionante multitud que invadió el Brahma para la espectacular presentación de Dubfire, donde todos los asistentes bailaron la noche completa, aún cuando muy acalorados por un mal aire acondicionado.
Una de las mejores cosas de la semana fue la fiesta que celebró una de las disqueras más top este 2010: The Crosstown Rebels party en la cueva del Alux – a.k.a the "Rebel Rave in a Cave" – lo que definitivamente les dio un interesante escenario y una noche especial en una cueva con estalactitas reales.  La ahora convertida cueva le agregó ese sentimiento literal de "underground" al line up que incluía a Damian Lazarus, Seth Troxler, Jamie Jones y Art Department, quienes lograron que la música complementara este extraño y particular escenario perfectamente.
Como siempre, hubo un gran número de artistas llenando el line up, en un intento de tener algo para cada aficionado de la música dance. Es oficial: The BPM Festival está creciendo exponencialmente, con una lista de fans que se incrementa día a día y lineups más grandes, para incluir música más variada en un creciente número de sedes.  The BPM Festival definitivamente seguirá llenando el período reservado para los cálidos festivales de invierno, por muchos años más.
4th. Edition The BPM Festival
Playa del Carmen, Mexico
December 31, 2010 – January 9, 2011
www.thebpmfestival.com
The 2011 BPM Festival opened with a bang on New Year's Eve in Playa Del Carmen. The much-anticipated festival once again touched down in the idyllic beach resort town in Mexico for the 4th installment of an event that is now a regular feature in the global clubbing diary of DJs and partygoers alike.
Initially engendered as a conference, BPM has built year upon year to a level where now the crème of the DJ fraternity can be found spinning every night of the week, as well as spending their holidays in the sun. The event organizers have successfully fulfilled their mission statement of 'escape the winter doldrums and head for the Mayan sun for beats and beach fun' in 2011, with over 25,000 clubbers from across Canada, the United States, Mexico, Latin America and Europe flocking to the event for 49 different day and night parties which hosted over 120 DJs spinning the finest dance music in an abundance of backdrops.
2011 was all about offering more bang for your buck, with the promoters essentially doubling up on the number events taking place both at day and night. The music policy is strictly house and techno and allows for a full spectrum of artists and promoters to visit and work within the format outlined by the BPM organizers. Like last year, a majority of the daytime parties centered around the hub of the festival: Kool Beach Club. The dance area is set around a pool which effortlessly flows out onto the beach, and the immense sound system keeps partygoers grooving from morning to dusk daily. Notable highlights down at Kool were Space Miami head-honcho Louis Puig, Miami's favorite adopted Frenchman Cedric Gervais, and also a surprise set from Davide Squillace and Dubfire, whose gigs at Brahma the preceding evening hit capacity. The fans just couldn't get enough.
There were some big venue additions for the daytime parties too. Both Mamitas and Canibal Royal beach clubs are the kind of beach bars that you could wile away at all day. The addition of parties hosted by Culprit and No.19 Music, featuring the likes of Lee Foss, Jonny White of Art Department and Droog, as well as Mexico's most internationally renowned imprint Akbal Music, put these venues on the map as a day time destination for many of the festival attendees. Not to mention spectacular DJ sets by Three and Lee Burridge, who filled in last-minute when Mr. C couldn't make it.
From the daytime, partygoers could segue into the evening to continue at a number of parties in some really impressive and at times intimate venues. The Blue Parrot Beach Club (complete with sandy dancefloor) this year played host to some DJ heavyweights, and it was the parties hosted in this venue that really signaled the growing popularity of the event. Both the Richie Hawtin and Loco Dice parties were at-capacity, as fans sought entrance to the beach front club to witness their respective brands of techno and tech-house. The NYE event was also held here, with progressive house heavyweight Hernan Cattaneo playing to another sold-out crowd. Other nights included performances by big time house artists Laidback Luke and Swedish House Mafia don Steve Angello!
La Santanera's boudoir-esque décor played host to the Air London duo of Nick Curly and Simon Baker playing a memorable night. The club also notably hosted Lee Burridge for a sold-out gig, and also a Kompakt Records party, with Michael Mayer and Superpitcher playing back to back!
Brahma was again a focus club for 2011, with Detroit innovator Stacey Pullen closing out the festival he has grown to love so much on the last night, and also the likes of Paul Ritch and Paco Osuna playing dancefloor-destroying sets. And who can forget Dubfire's wildly packed gig, with partygoers dancing the night away, despite being hot and sweaty due to a broken air conditioner.
One of the highlights of the week was the party hosted by one of the top record labels of 2010: The Crosstown Rebels party at Alux Cave aka the 'Rebel Rave in a Cave,' which definitely provided an interesting backdrop, and a breathtaking night of music alongside the cave's growing stalactites. The converted cave gave that literal underground feel, and a line up of Damian Lazarus, Seth Troxler, Jamie Jones, and Art Department meant the music complemented the strangely weird venue perfectly.
As always, there was a wide plethora of artists comprising the line up this year in an attempt to deliver something for all dance music aficionados. It's official: The BPM Festival is exponentially growing, with an increasing fanbase and bigger lineups playing more diverse music at an expanding number of venues. The BPM Festival will definitely continue to fill the niche for wintertime sun-filled festivals for years to come.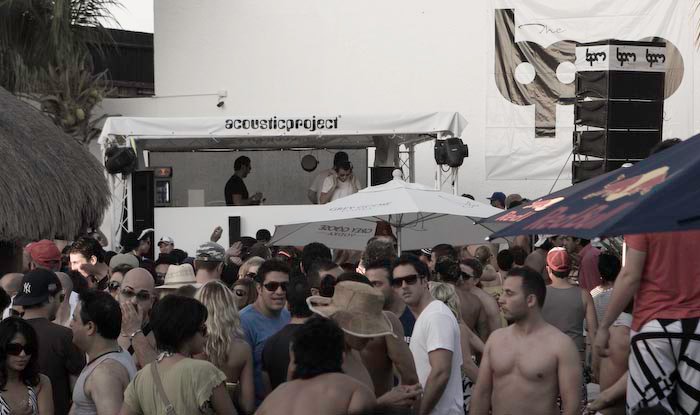 ---