La 5ta. Edición del Festival Anual BPM
Diciembre 30, 2011 – Enero 8, 2012
Playa del Carmen, Riviera Maya
México
www.thebpmfestival.com
twitter.com/thebpmfestival
Preventa Super Especial de Brazaletes VIP para los 10 días del Evento
Los invitamos a ver: The BPM Festival 2012 Teaser Video (English) | (Spanish)
The BPM Festival, es el más grande festival de música dance en México.  Del 30 de diciembre del 2011 al 8 de enero del 2012, celebra su 5to. Aniversario en Playa del Carmen, Riviera Maya.  Con un total de 25,000 asistentes que rompió record en 2011, el BPM Festival 2012 promete ser aún mejor y más grande, con un lineup de artistas estelares y muchas sorpresas preparadas para la quinta edición de este evento de música electronica de clase mundial.
Nombrado por MixMag como una de las 10 mejores fiestas Internacionales, el BPM Festival 2011 recibió a 120 de los mejores DJs y productores del planeta, tocando día y noche durante 10 días bañados de sol en el hermoso Caribe Mexicano.  Playas de arena Blanca, agua azul turquesa y los más talentosos artistas como: Damian Lazarus, Dubfire, Laidback Luke, Lee Burridge, Marco Carola, Richie Hawtin, Steve Angello, y Steve Lawler (por nombrar algunos) hacen del BPM Festival el escape de invierno perfecto, en uno de los más espectaculares destinos de playa del planeta.  "Cuando vine aquí por primera vez, realmente note una vibra y energía única, que crece cada año.  Se ha convertido en un lugar muy especial para venir durante la temporada de invierno," comentó Ali Shirazinia, a.k.a. Dubfire.  "¡Está en mis planes regresar cada año!"
El BPM Festival estará celebrando su quinto aniversario el 5 de enero del 2012, con fiestas especiales y sorpresas que tendrán lugar por todo Playa del Carmen.  En tan solo unos años, el BPM Festival se ha convertido de ser un evento para la elite de la industria, en una mezcla internacional de amantes de la música electrónica, DJs, productores, revelaciones y partygoers – y cada vez es mejor.  No es casualidad que el BPM Festival 2012 coincida con el fin del calendario Maya, una fecha para celebrar el cambio y avanzar hacia una nueva era.  ¡Ven a celebrar con nosotros!
Una cantidad limitada de brazaletes VIP para los 10 días del evento, han sido liberados a un precio especial en www.wantickets.com/bpm
Los invitamos a visitar www.thebpmfestival.com para noticias y avisos importantes – el nuevo sitio web sera liberado proximamente.
The 5th Annual BPM Festival
December 30, 2011 – January 8, 2012
Playa del Carmen, Riviera Maya
Mexico
www.thebpmfestival.com
twitter.com/thebpmfestival
Super Special Advance 10-Day VIP Wristband Presale
bpm.wantickets.com
Watch The BPM Festival 2012 Teaser Video (English) | (Spanish)
The BPM Festival, Mexico's biggest dance music festival, celebrates its blow-out 5th anniversary in Playa del Carmen on the Riviera Maya from December 30, 2011 to January 8, 2012. With a record-breaking 25,000 attendees in 2011, The BPM Festival 2012 promises to be even bigger and better, with a stellar artist lineup and lots of surprises in store for the fifth year of this world-class electronic music event.
Named one of MixMag's 10 Best International Parties, BPM Festival 2011 saw 120 of the planet's best DJs and producers playing day and night for 10 sun-drenched days in the beautiful Mexican Caribbean. White sand beaches, turquoise waters, and top talents like Damian Lazarus, Dubfire, Laidback Luke, Lee Burridge, Marco Carola, Richie Hawtin, Steve Angello, and Steve Lawler (just to name a few) make the BPM Festival a perfect winter getaway in one of the most spectacular beach locations on the planet. "When I first came here, I really noticed a very unique vibe and energy that has escalated every year. It's become a really special place to come to in the winter time," says Ali Shirazinia, a.k.a. Dubfire. "I plan on coming back every year!»
The BPM Festival will be celebrating its fifth year anniversary on January 5th, 2012 with special parties and surprises taking place all over Playa del Carmen. In just a few short years, the BPM Festival has grown from an elite industry networking event into an international mélange of electronic music lovers, DJs, producers, revelers and partygoers — and it just keeps getting better. It's no coincidence that BPM Festival 2012 coincides with the end of the Mayan calendar, a time to celebrate change and usher in a new era. Come celebrate with us!
A limited number of super special advance sale priced 10-Day VIP wristbands are available now at www.wantickets.com/bpm
Please visit www.thebpmfestival.com for upcoming news and announcements – new website will be launched soon.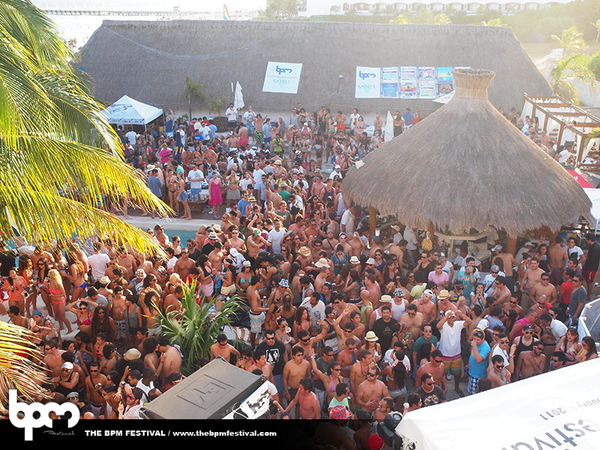 ---