LIKE US
www.facebook.com/ME-Cancun/
FOLLOW US
www.twitter.com/FollowMECancun
Welcome to ME Cancún
A complete experience beyond accommodation
ME Cancun resort is all about YOU. A sensory paradise of art, design, music and cuisine, situated on the most perfect stretch of beach in the Western Hemisphere and focused on one pursuit: your pleasure.
Individualized service is the living, breathing soul of the culture of ME. At its heart is the belief that «Everything Is Possible.» The Aura Managers of ME Cancun resort are the key to discovering just how much fun it can be to be you, at ME Cancun Hotel and Resort.
ME Cancun is a contemporary adult-oriented luxury resort concept. A SouthBeach experience in the Mexican Caribbean, we do not like to call it all inclusive, but we do like to call it a Complete ME experience beyond mere accommodation. Accommodations can only be booked as a complete experience package, however the resort remains a social hub for the local jet-set with its bars, restaurants, and beach club accessible to non-resort guests on a pay-to-play basis.
Bienvenido a ME Cancún
Una experiencia más allá de lo esperado.
El lujo no tiene limites cuando la pasión de ME te envuelve. ME Cancún es todo sobre ti. Un paraíso para los sentidos del arte, diseño, música y cocina, en la playa más espectacular del hemisferio occidental-enfocado con solo un propósito: complacerte.
El servicio personalizado es el alma viviente y vibrante de la cultura ME. Al fondo de su corazón existe el mantra «Todo es Posible.» ¡Y lo es! Aura Managers son la clave para personalizar tu experiencia y descubrir el encanto de ME.
ME Cancún es un resort de lujo contemporáneo, un concepto innovador orientado a adultos. Una experiencia al estilo "South Beach" en el Caribe Mexicano. No nos gusta llamarlo "Todo incluido", sino "Complete ME". Una experiencia completa más allá del simple alojamiento". Las reservaciones están disponibles únicamente bajo la modalidad "Complete ME" (AI). No obstante, el hotel se mantiene como el epicentro social de la jet-set local, recibiendo de forma tradicional en sus bares, restaurantes y beach club al público en general.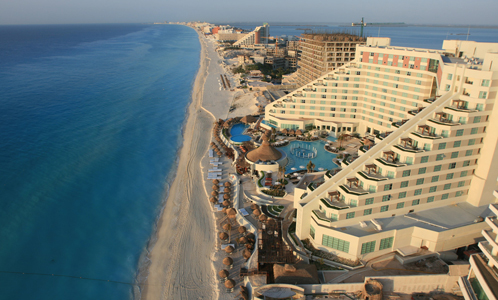 ---