#BPM2017
Enero 6 – 15, 2017
Playa del Carmen, Riviera Maya, Mexico
www.thebpmfestival.com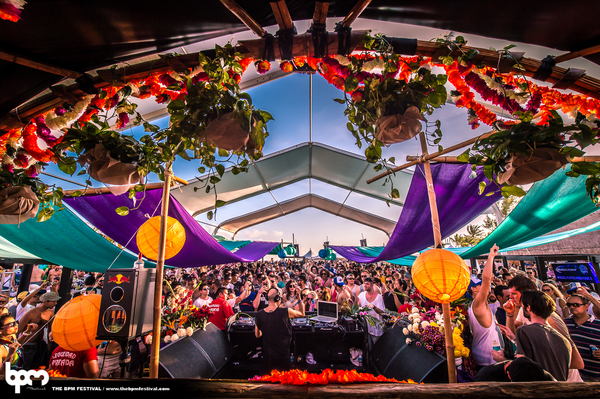 The BPM Festival 10mo. Aniversario
Fase 1 del Lineup – ¡Más de 100 artistas anunciados! 
6 – 15 de enero, 2017
Playa del Carmen, Riviera Maya, Mexico
www.thebpmfestival.com
[SoundCloud] The BPM Festival Podcast 047 – Chaim – Escucha aqui!
Brazaletes de 3 días (fin de semana de inauguración y clausura), 7 días y 10 días, a la venta por tiempo limitado
www.thebpmfestival.com/tickets
The BPM Festival se enorgullece en anunciar la Fase 1 del lineup, con más de 100 artistas para su décimo aniversario 2017 en Playa del Carmen, México, del 6 al 15 de enero del 2017.  Con la participación de nombres familiares que han estado presente desde su primera reunión en 2008, así como nuevos talentos que recientemente se unen a la familia BPM, The BPM Festival 2017 reunirá clásicas leyendas e iconos del underground como Art Department, Carl Cox, Dubfire, Jamie Jones, John Digweed, Lee Burridge, Marco Carola, Nicole Moudaber, Seth Troxler, Solomun, y The Martinez Brothers, además de reconocidos artistas como Hector, Lauren Lane, Richy Ahmed, wAFF y cientos más, que se encontrarán en las playas y clubs de Playa del Carmen, para presentar lo mejor de lo mejor de la música electrónica underground.
Con la Fase 1 del lineup sumando a las diez presentaciones recientemente anunciadas, para tener un total de veinte, y muchas más por venir, la emoción continúa en camino a The BPM Festival 2017.  Se unen a la gran celebración este enero: el sello rumano [a:rpia:r] para su muy esperado debut BPM, el siempre favorito de BPM Lee Burridge con All Day I Dream, los representantes del Ibiza underground; ANTS, la super agrupación francesa Apollonia con un muy especial extended set en Apollonia All Day Long, el regreso de Solomun con Diynamic in the Jungle, la fiesta española de elrow, Gorgon City y su nuevo proyecto Kingdom, el techno clásico moderno de Sian con Octopus Recordings, el talento ibérico de Chus & Ceballos con Stereo Productions, la estrella de portada Mixmag; Christian Smith en conjunto con Boris para Tronic vs. Transmit, y Hector el mexicano favorito con su fiesta de Vatos Locos.
Transpórtate a Playa y disfruta la vibra etérea de BPM al escuchar el nuevo episodio de las series de podcast de The BPM Festival que Chaim presenta, escucha aqui la música del productor nacido en Tel Aviv y uno de los elementos principales de RUMORS.  Con más de 400 artistas y 70 presentaciones para elegir, los asistentes pueden esperar muchas sorpresas para la edición más monumental que The BPM Festival ha presentado.
Los brazaletes de 3-días para el fin de semana de inauguración (6 al 8 de enero, 2017), de 3-días para el fin de semana del cierre (13 al 15 de enero, 2017), de 7-días (9 al 15 de enero, 2017) y de 10-días para toda la duración del festival, están a la venta ahora exclusivamente en TheBPMFestival.com/tickets.  Hay planes de pago disponibles en compra de brazaletes de 7 y 10 días para residentes de los E.U.A.  Los beneficios de los brazaletes incluyen acceso a todos los eventos que inician durante los días establecidos, filas de ingreso preferencial, entrada asegurada (sujeto a la capacidad legal de cada sede), además de descuentos en más de 125 negocios locales y restaurantes.
Los brazaletes de 3, 7 y 10 días están a la venta ahora y por tiempo limitado via www.thebpmfestival.com/tickets.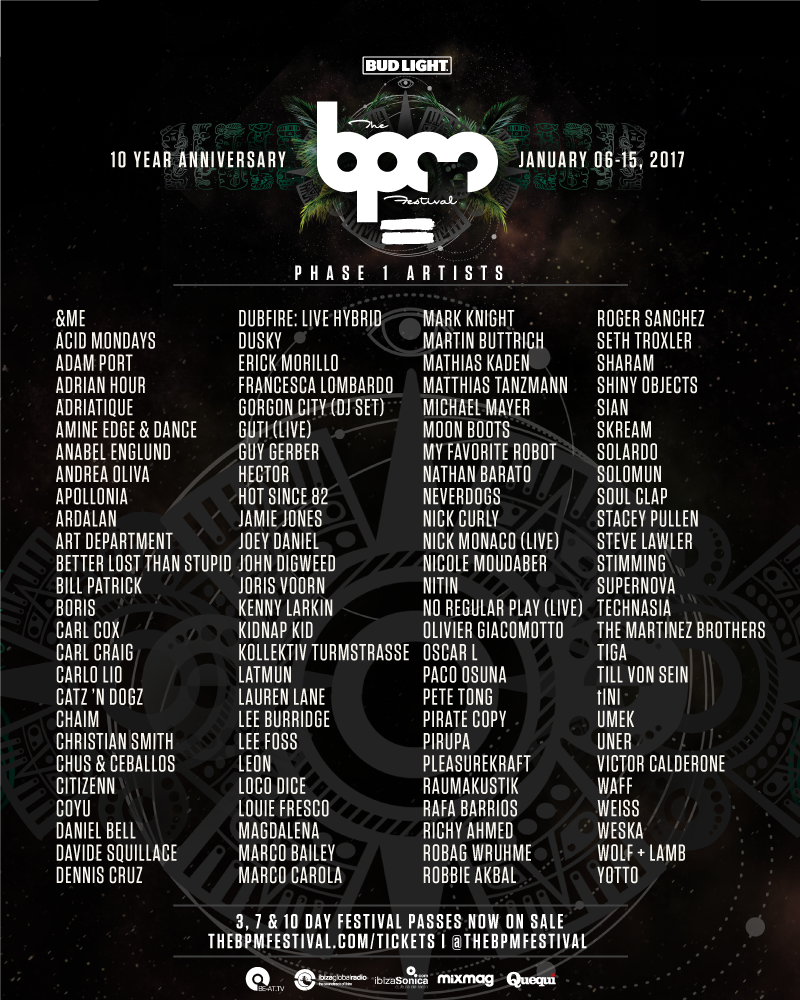 Fase 1 del Lineup de Artistas para The BPM Festival 2017 (en orden alfabético)
ACID MONDAYS
ADAM PORT
ADRIAN HOUR
ADRIATIQUE
AMINE EDGE & DANCE
ANABEL ENGLUND
ANDREA OLIVA
APOLLONIA
ARDALAN
ART DEPARTMENT
BETTER LOST THAN STUPID
BILL PATRICK
BORIS
CARL COX
CARL CRAIG
CARLO LIO
CATZ 'N DOGZ
CHAIM
CHRISTIAN SMITH
CHUS & CEBALLOS
CITIZENN
COYU
DANIEL BELL
DAVIDE SQUILLACE
DENNIS CRUZ
DUBFIRE:LIVE HYBRID
DUSKY
ERICK MORILLO
FRANCESCA LOMBARDO
GORGON CITY (DJ SET)
GUTI (LIVE)
GUY GERBER
HECTOR
HOT SINCE 82
JAMIE JONES
JOEY DANIEL
JORIS VOORN
JOHN DIGWEED
KENNY LARKIN
KIDNAP KID
KOLLEKTIV TURMSTRASSE
LATMUN
LAUREN LANE
LEE BURRIDGE
LEE FOSS
LEON
LOCO DICE
LOUIE FRESCO
MAGDALENA
MARCO BAILEY
MARCO CAROLA
MARK KNIGHT
MARTIN BUTTRICH
MATHIAS KADEN
MATTHIAS TANZMANN
MICHAEL MAYER
MOON BOOTS
MY FAVORITE ROBOT
NATHAN BARATO
NEVERDOGS
NICK CURLY
NICK MONACO (LIVE)
NICOLE MOUDABER
NITIN
NO REGULAR PLAY (LIVE)
OLIVIER GIACOMOTTO
OSCAR L
PACO OSUNA
PETE TONG
PIRATE COPY
PIRUPA
PLEASUREKRAFT
RAUMAKUSTIK
RAFA BARRIOS
RICHY AHMED
ROBAG WRUHME
ROGER SANCHEZ
ROBBIE AKBAL
SETH TROXLER
SHARAM
SHINY OBJECTS
SIAN
SKREAM
SOLARDO
SOLOMUN
SOUL CLAP
STACEY PULLEN
STEVE LAWLER
STIMMING
SUPERNOVA
TECHNASIA
THE MARTINEZ BROTHERS
TIGA
TILL VON SEIN
tINI
VICTOR CALDERONE
UMEK
UNER
wAFF
WEISS
WESKA
WOLF + LAMB
YOTTO
Showcases anunciados para The BPM Festival 2017 (20 hasta la fecha de este boletín)
Enero 6  ANTS
Enero 6  Knee Deep In Sound
Enero 7  All Day I Dream
Enero 7  The BPM Festival presents YA'AH MUUL
Enero 7  Kingdom
Enero 8  Apollonia All Day Long
Enero 8  Music On
Enero 9  Music On
Enero 9  Keinemusik
Enero 10  Diynamic in The Jungle
Enero 10  Tronic vs. Transmit
Enero 12  Paradise
Enero 12  Stereo Productions
Enero 12  [a:rpia:r]
Enero 13  SCI+TEC
Enero 13  Warriors
Enero 13  Octopus Recordings
Enero 14  Nicole Moudaber presents MOOD
Enero 14  RUMORS
Enero 14  Vatos Locos
Enero 14  The BPM Festival presents YA'AH MUUL
Enero 15  elrow
Muchos más por anunciarse!